Gold and Silver in your IRA
We can do that!
Call 800-334-3325
Sign up to receive free
Rare Coin Report newsletter
---
"What Color Are Your Assets"
by Lawrence D. Goldberg
An Insiders Guide to
Rare Coins
and Precious Metals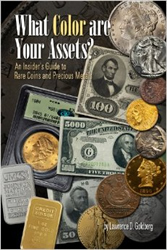 ---
Mailing Address
2219 W. Olive Avenue, Suite 218
Burbank, CA 91506
Phone: 800 334-3325
Direct: 818 557-0901
Fax: 818 557-0902
Book Details
Think Like A Collector, Buy Like An Investor

Rare Coin Expert and Author, Lawrence D. Goldberg shares his inside knowledge of the world of coins in What Color Are Your Assets? An Insider's Guide to Rare Coins and Precious Metals (Zyrus Press).

By thinking like a collector, both the beginning coin collector and seasoned investor can learn the tricks of the trade for creating value for years to come. With over 33 years of experience, Lawrence shares what he has learned in this easy-to-read, easy-to-understand guide to portable assets.

In the pages of this book, you will:
Learn why silver is sometimes a better investment than gold.

Discover the secret to coin grading that sellers don't want you to know.

Understand how the economy impacts your rare coins and precious metals.

Realize that privacy is still available with your coin investments.

Protect the value of your family's inheritance over time.
In this thorough, succinct, yet easy to understand book, renowned rare coin dealer Lawrence D. Goldberg takes you on a tour inside the precious metals and rare coin markets, providing answers to the most common and important questions asked by investors and collectors: How to buy for value? How to avoid rip-offs? Why are precious metals and rare coins vital for today s investor? Along with straightforward explanations of the most crucial aspects of the hard asset markets, Mr. Goldberg outlines the fundamental ways of thinking and practical approaches that arm any investor or collector with the tools necessary to produce consistently outstanding results.

What Color Are Your Assets? will quickly become your favorite go-to guide before you make your next deal. Whether you have inherited your grandparent's collection or started a coin collection on your own, this handy reference book will help you navigate the road ahead to smart investing like a pro.

To purchase an autographed copy of What Color Are Your Assets? click on Buy Now button on left panel.

Read the Introduction to Lawrence's book: What Color Are Your Assets?

Press Release from Zyrus Press: Author of the Month: Lawrence Goldberg